Gen Con Photos Part 1
Well, I'm back from Green Bay. (Yes, after visiting Indianapolis, also known as the city of "we-are-obsessed-with-our-NFL-team-and-they're-going-to-the-Super-Bowl", I went to the Green Bay area. Good thing I'm a football fan!) This was my second time in Indianapolis, and it was a fun visit. I'll be sharing some photos, videos, and stories from Gen Con in a three part series. This is the first part.
Part 1: Let the Games Begin
Gen Con began as a Dungeons and Dragons gathering, but now it includes all form of games, including the latest "blow everything up" computer games. I grew up with the pleasure of attending many Gen Cons in Milwaukee before the convention moved to Indianapolis around 2003, so I was curious to see what it was like in its new host city. As it turns out, the convention has the same look and feel in Indy, and it was sort of like returning "home"… but then again not quite the same.
Above is a photo of Gen Con attendees in the streets of Indianapolis. I grew so used to this group of people visiting my neck of the woods in Milwaukee that it was bizarre to see them again in another city and have me be a visitor just like them.
Above you can see my "homebase" at the convention, where I sold copies of The Lord of the Films.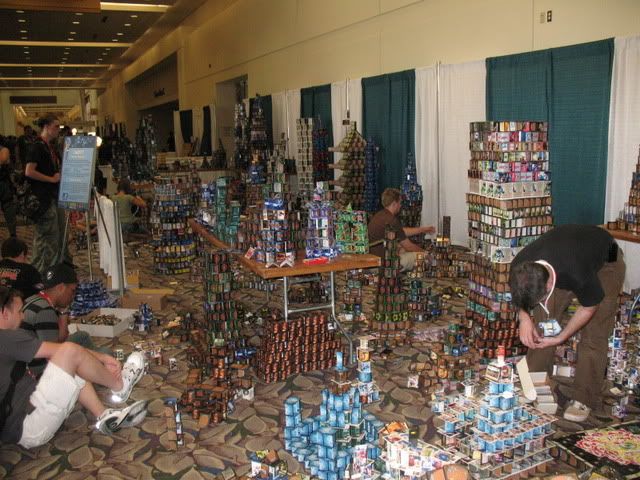 This is a place where attendees were invited to build houses made out of cards. Others were later invited to knock them down… which seems a bit sad.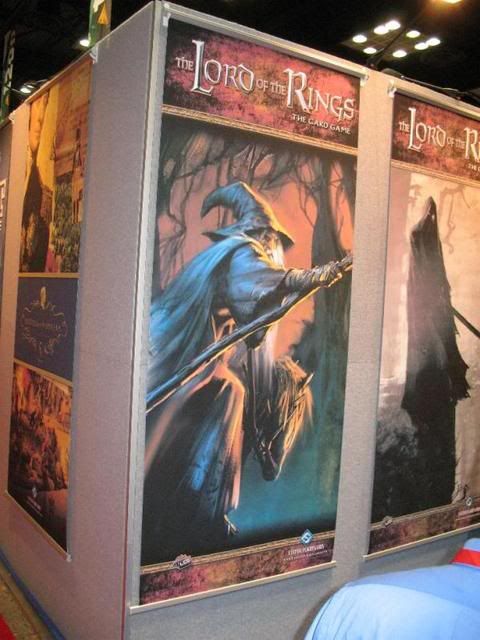 Card games have been popular at Gen Con since the first conventions I attended. This was where you could play a Lord of the Rings card game.
Above you'll see every LOTR card known to man… and Elf.
Here's somebody teaching people how to play a game.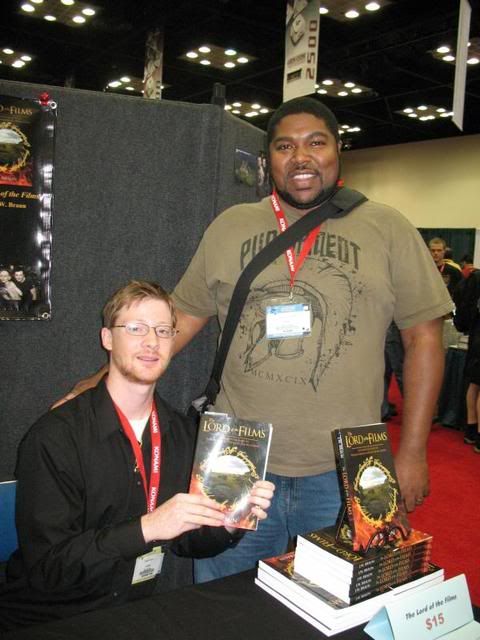 This guy who came to my table and said, "I've got to have this book!" I hope he's enjoying it, wherever he is now.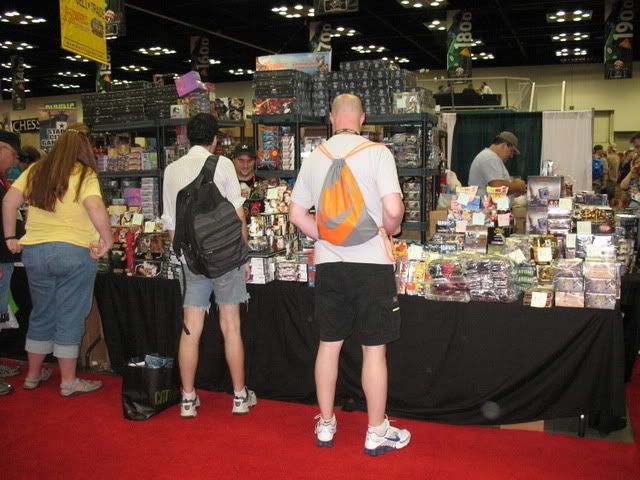 Above you can see people checking out the merchandise at a table. Backpacks were very popular.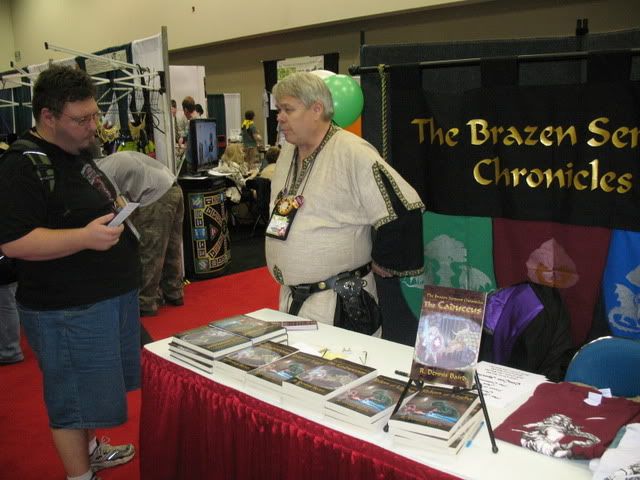 This is another author who was selling books. I'll have much more to say about the authors I got to know, and many more photos, in later on.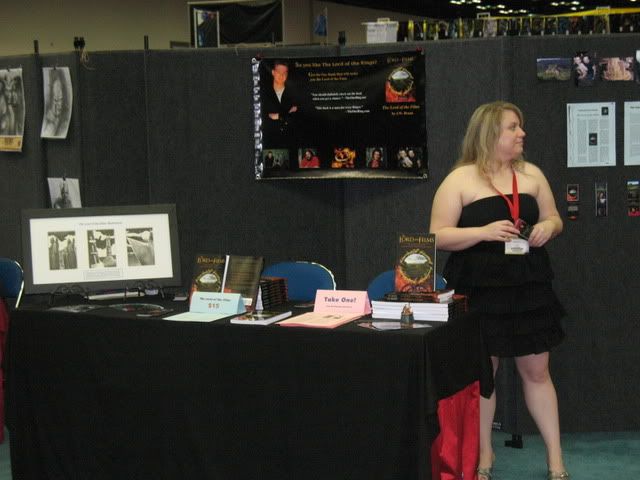 Above you can see the pretty Keely, handing out bookmarks at my table.
And here on the right you can see a guy who was such a fan of me, he copied my look. Just kidding. Actually, this is Jonathan who works for LOTRO.com (Lord of the Rings Online.)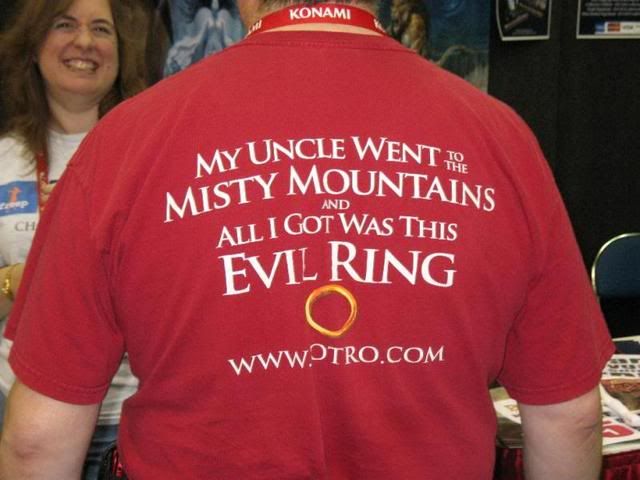 This is a T-shirt one of the guys from Lord of the Rings Online had. I love it!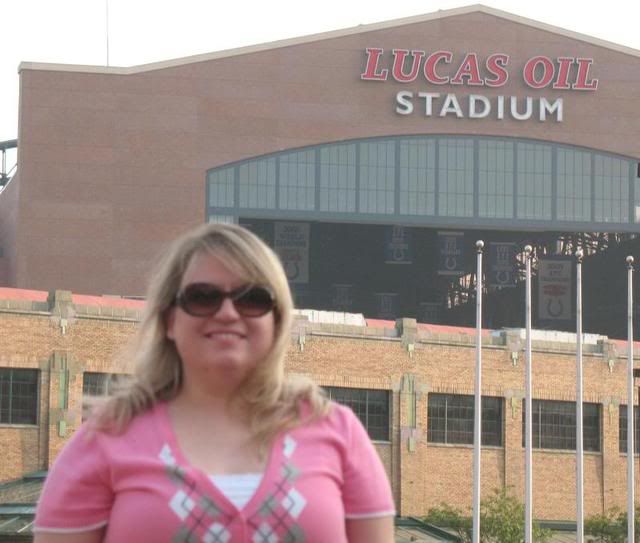 This is Keely at Lucas Oil Stadium. The Indianapolis Colts have been one of the NFL's best teams for a decade (and were just in the Super Bowl), and with football season just about to start up, Colts-fever is running wild. It was quite surreal listening to the local news and seeing a city nearly as obsessed with their team as we are.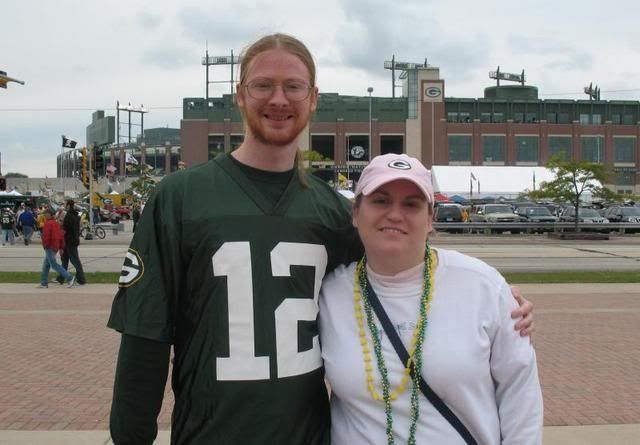 And here's another NFL stadium: Lambeau Field in Green Bay, WI, home of the Packers. Actually, this was taken a couple years ago when Keely and I went to Aaron Rodgers' first game. (He's the quarterback for the Packers.) We did visit Green Bay today, but we didn't take any photos, so this will have to suffice.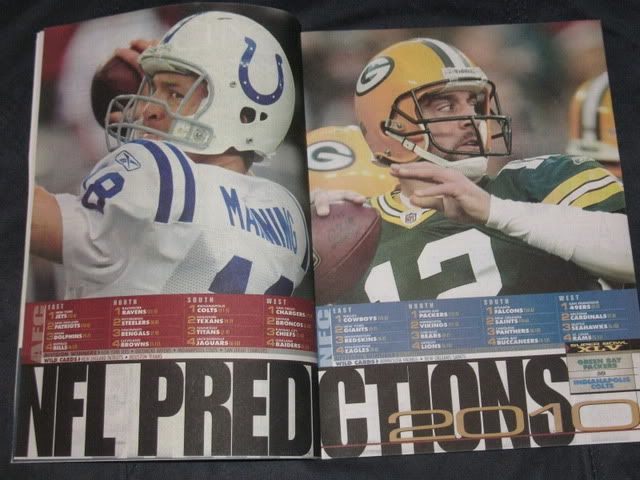 Okay, this is the last football related photo – I promise. I picked up this magazine today (Yahoo Sports), and what do I see? Yahoo has picked the Packers and Colts to go to the Super Bowl (with the Packers winning). Having just been to both their homes, I thought it was interesting. Keely and I actually like both teams quite a bit.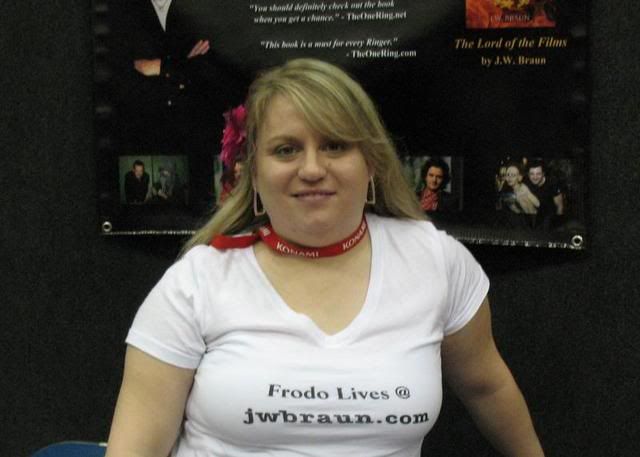 Keely, wearing a jwbraun.com shirt.
You could pick up these babies at Gen Con, because even a geek needs some help now and then.
Here's Wil Wheaton (Wesley Crusher from Star Trek TNG) signing at Gen Con. He was a really nice guy.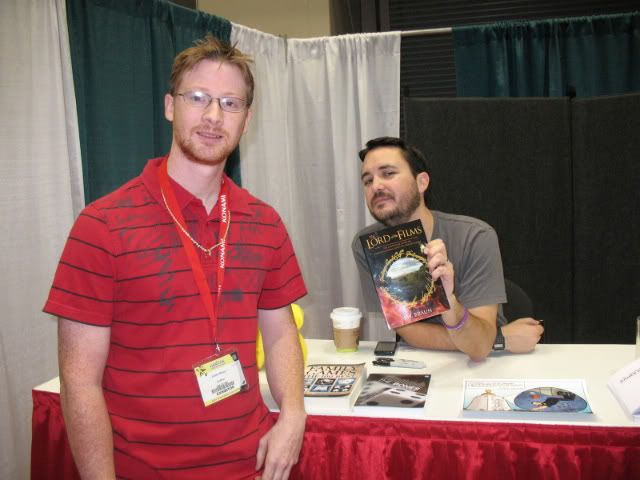 I can't say that Wil endorses my book (I don't think he's even read it yet), but I can say that he's a big Lord of the Rings film fan and seemed very please to get a copy. I'll have to keep an eye out on his blog to see if he ever mentions it. Hopefully he doesn't mention what a geek I looked like when I was meeting him. I was really nervous! But hey, if you can't be a geek at Gen Con, when can you be?
And finally, here's a video from the Con. It's a bit hard to make out the sound (and I haven't had time to subtitle it) but really it's not too important to hear what he's saying. Here's the story: I was at my table selling my book when this guy in a Superman shirt stopped by. My wife asked him if he wanted a bookmark and he said, "Sure, sweetie". (For what it's worth, he later called me "boyfriend".) We began talking about The Silmarillion as a film, and he was so enthusastic about it, he began quoting passages and acting them out. When someone wanted to video tape it, he jumped in behind the booth with me to give his performance. Here you can see me trying not to look to frightened as he does his thing.
That's it for part one! In part two we'll look at costumes.