Solar Eclipse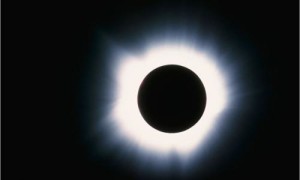 Keely and I drove down to Illinois to see our first total solar eclipse. Our favorite parts?
The chase: getting ourselves into the zone and positioning ourselves in a place with good weather. (Meanwhile, we knew that traffic was going to be increasingly gridlocked, and we weren't going to be able to move from our spot!) We checked the weather radar and got up early enough to get where we needed to be.
The comraderie: it was fun meeting other eclipse chasers and knowing we were all part of something special we'd remember for the rest of our lives.
The light. This is the thing no picture or video can properly show. As the sun is being covered, nothing changes for quite a while, other than a temperature drop. At about 75% coverage, there's a slight dimming. But then the last ten minutes before, at 95%, things take a dramatic shift, with the light becoming very, very strange. It's not like dawn or dusk or cloud cover. It feels more like you're on an alien world. And it's like a drumroll to the main event, creating the anticipation.
Seeing the darkness rush in: if you look to the west, you can see the darkness coming at supersonic speed, covering the land.
Looking back at the sun and seeing a black hole. (As pictured above)
Seeing planets: I could see Venus and Saturn.
Seeing the sun return and watching the Moon move off (with our eclipse glasses).
Looking back at it all, and enjoying the success of being at the right place at the right time!