The Big Spring Giveaway
Those of you who have seen my segment on TheOneRing.net know that I have been giving away prizes for the last couple of years. Now it's time for a larger contest: The Big Spring Giveaway (or Autumn or Summer if you're from New Zealand or Hawaii or wherever). I'll be formally announcing this contest in the next installment of the bookshelf, but you can enter anytime, and here are all the details just for you!
For this giveaway, you can win one of three different prize packages:
A: The Lord of the Rings Collection
This package includes all three Lord of the Rings movies (theatrical editions, region 1) on Blu-ray as well as The Lord of the Rings Sketchbook by Alan Lee.
B: The Hobbit Chronicles Package
This package includes The Hobbit – An Unexpected Journey Chronicles: Art & Design as well its sequel, The Hobbit: An Unexpected Journey Chronicles II – Characters and Creatures – both in their original plastic wrap.

C: The Official Hobbit Movie Guide
The last prize is new edition of The Hobbit: An Unexpected Journey Official Movie Guide.
Here's all you need to do to enter: get my book, The Lord of the Films, and e-mail a photo of yourself with it to lordofthefilms@gmail.com. On June 18, three names of all those who enter will be drawn at random. First place will have first choice of whatever prize package he or she wants, second place will have second choice, and third place will get whatever's left. I'll announce all the contest winners here and in my bookshelf segment at TheOneRing.net. So good luck!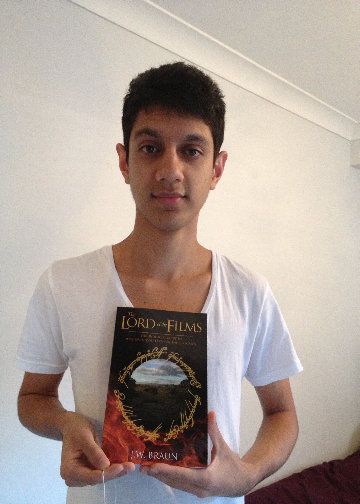 Previous contest winner Michael of Sydney, Australia