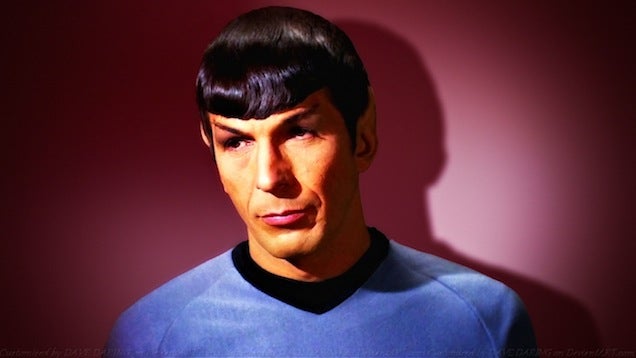 Leonard Nimoy died this morning in his home. He was 83 years old and is survived by his wife, two children, and six grandchildren.
A few days before his passing, Nimoy shared his final public statement on twitter: "A life is like a garden. Perfect moments can be had, but not preserved, except in memory. LLAP [live long and prosper]".
In honor of Nimoy, here's my review of a classic Star Trek episode.
The Galileo Seven:
Spock commands a stranded away team after their shuttlecraft crashes on a planet with hostile giants.
Air date: 1/5/1967
Teleplay by Oliver Crawford and S. Bar-David
Story by Oliver Crawford
Directed by Robert Gist
Inspired by the 1939 disaster film Five Came Back and taking advantage of a new licensing deal with AMT, Star Trek gives us our first Mr. Spock character study, placing the Vulcan in command of an A story about him and his crew of six others trapped on a planet. Meanwhile, Kirk attempts to find the shuttle and its crew in the B story but is constantly reminded the Enterprise is needed elsewhere by High Commissioner Ferris, the authority figure of the week. It's a classic Star Trek plot and a breakthrough episode for Leonard Nimoy, who was already finding his character before but finally gets to establish him here.
It all begins with the launch of a shuttlecraft, a setting introduced to the show courtesy of AMT (originally called Aluminum Model Toys) which agreed to build a miniature shuttle model, a lifesize exterior set, and even the interior set in exchange for merchandising rights. With this triple play, the writers are able to have the characters interact with the setting any way they want, and it provides Spock, McCoy and company with a great setting for rich character interplay as the story moves from inside to outside (the planet set) and back again. The basic idea behind the drama is that Spock assumes his step by step logical approach is the best way to command, but the others don't trust his judgement. In the end, he's not only fighting an external battle with the others to reaffirm his command but an internal battle with himself as he begins to question his own actions. (In fact, the real issue isn't even about logic versus emotion but what it takes to make decisions and be a leader.) The beauty of the script is that it doesn't provide easy answers or predictable outcomes to prove who's right but continues to throw out curveballs throughout the episode, making us wonder throughout the episode just who does have the best idea. (There are times it's easy to agree with Spock, but there are other times it's just as easy to agree with someone else.)
But it's Leonard Nimoy, for once getting an episode without "you know who" by his side, who makes the whole thing work. With a script that allows his character to make mistakes and learn from them, Nimoy plays up Spock's stubbornness and self assured nature on the surface, layering it with a subtext of soul searching and self doubt. It's this ability to create a facade while simultaneously letting us in that Nimoy does so well, and what makes Spock work. By the end of the episode, Spock's character arc has played out under the surface, as if his Vulcan half is trying to disguise it from us, saying "Nothing to see here" while we see through it and admire him all the more for his humanity.
Meanwhile, Kirk orders searches for the shuttle from the bridge of the Enterprise, a B story that's there partly to give William Shatner something to do and partly to serve as a ticking clock counting down to zero, personified by Ferris. When the mission does end, Kirk's relief can come across as bizarre if you think about it. (Why doesn't he wonder who has made it and who's been left behind? And why doesn't he ask if the missing crewman are still alive on the planet? And, come to think of it, if the Enterprise is so desperately needed elsewhere, why is he leaving at the leisurely speed of warp 1?)
But really, this isn't a Kirk episode, and these are just issues for nitpickers. This is about Mr. Spock's journey; the same Mr. Spock who always loses to Kirk in chess, because Spock's logic ultimately loses to Kirk's intuition. Here, it's Spock who finds both to win his own game of chess by himself against the great unknown.
(All this said, I do wish the episode had a little more in it in defense of Spock's logical approach. Mr. Boma's assertion that they should hold funeral services seems rather boneheaded when time is of the essence and there are killer giants on the surface of the planet. In the end, the writers leave it to the audience to say, "Man, that Boma's a jerk." But it would be nice if McCoy or Scotty were to defend Spock a little more here.)
Remastered Version (2007): For this episode, CBS Digital lets their hair down and creates some new effects unlike anything seen before. The truth is that while the original effects were passable in 1966 (indeed, they are reused in subsequent episodes), they barely give enough visual information to make out what's happening. The quasar is a blob. The planet within is a poorly colored version of the planet from "The Man Trap", and the shuttles look like toys. (In fact, the trail the shuttle leaves near the end, a key story point, is barely visible.) For the new version, the quasar is distinct, the planet is properly shrouded, and the shuttles get the star treatment, complete with a new shuttle bay (and a much more visible trail). They even update the ship's chronometer to match "The Naked Time" and "The Corbomite Maneuver". In the end, with the new effects better telling the story, CBS turns an already great episode into a better one.