Charity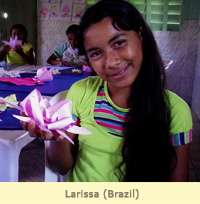 A message from J.W. Braun
I was fortunate enough to be raised in a community that had the resources to care for and educate me, allowing me to maintain my health and find happiness in my life. Many children in this world are not so fortunate. Now that I have, thanks to the help of others, become a compassionate adult capable of lending aid of my own, I feel an obligation to help these children in need. That means doing more than blindly giving to a charity or simply throwing money at problems. I support a charity I have researched and believe is actually making a difference, and I give them more than money. I give myself, too, Through ChildFund International, I have not only made a change in a child's life, I have been able to witness it firsthand.
Since 2002, my sponsor child has been Larissa of Brazil. We enjoy exchanging letters, photographs, and drawings and have become great friends. In addition, Larissa's mother and ChildFund send me regular reports, telling me exactly where my money is going and letting me know the bigger picture of how Larissa and her community are doing.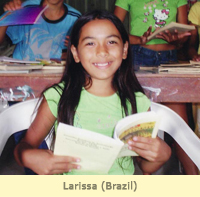 ChildFund was founded in 1938, and today joining is easier than ever. You can simply choose a child to sponsor at their website, and then pay a small donation each month which will be combined with other donations to help all the sponsored children in your chosen child's area. (About 10% of the money goes to adminstration expenses, 10% goes to fundraising expenses, and 80% goes to programs and services.) You can also send additional money to your sponsor child for Christmas, birthdays, etc. Just a little money from well-off countries goes a long way in places less fortunate. (When I send Larissa a birthday donation, Larissa's mom sends me a list a mile long with what she was able to buy with it.) Sponsors are encouraged to correspond with the children (if you and your sponsor child speak different languages, a translator will rewrite the letters for free.) And sponsors are perfectly welcome to visit with the children at any time. ChildFund also offers other ways to help other children as well.
– J.W. Braun
Sponsor a child today, visit www.childfund.org
No amount of money is worth more than helping someone in need